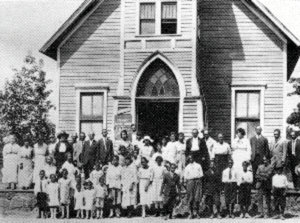 When African American celebrities make large gifts, news outlets often portray their contributions as a phenomenon and rare occurrence; still, many African Americans, are aware of our generosity to others — especially from a vantage point of a pew on Sunday mornings or at fraternal and sorority organizational meetings.
African Americans from Very Humble Backgrounds Become Philanthropic Giants
Some African Americans may equate philanthropic giving only to celebrities' or professional athletes; nevertheless, there are many examples of African Americans from very humble backgrounds, who have become known for their philanthropic giving. Osceola McCarthy is one. Osceola McCarty, who described her occupation as a washerwoman and lived in Hattiesburg, Mississippi, donated $150,000 to University of Southern Mississippi (USM). The Oseola McCarty Scholarship Fund will provide scholarships for black students, who attend USM.
Osceola McCarthy, a Washerwoman, Gave $150,000 to USM
Osceola McCarthy's story is so poignant and has significance for us all. Osceola McCarty, who spent over 75 years washing clothes, was able to amass a small fortune and make a contribution that would benefit generations to come. Personally, this story has significance for me: 1. I am an African American, who graduated from USM with a degree in Journalism and an emphasis in Public Relations; and 2. Since I paid for my undergraduate education through Student Educational Opportunity Grants, work-study assignments, part-time jobs at local restaurants, and Social Security and Dependent of Veteran benefits, I identified with the need for scholarships funds specifically for black students at a majority university, such as USM.
A History Replete with Stories of Giving
Osceola McCarty's generosity or other African Americans, who had meager resources, or even celebrities' and professional athletes' giving, is not uncommon or new phenomenon. African Americans have traditions of philanthropic giving, including African Americans who funded abolitionist's causes or helped newly escaped slaves that arrived in northern cities or formed mutual aid societies, dating back hundreds of years in America and specifically to the late 1800s. After emancipation, formerly enslaved African Americans formed schools, churches and cemeteries. Our history is replete with stories of formerly enslaved individuals that were similar to Osceola McCarthy, who had meager earnings; however, many African Americans are not aware of our philanthropic history which may soon be lost forever.
Support Community Partners' effort to document historical philanthropic stories and photographs of our ancestors in Celebrating Philanthropy in Communities of African American Descent.
Celebrate African American and/or African-descent Giving during Black Philanthropy Month in August
Black Philanthropy Month (BPM) observed in August as a global celebration and coordinated campaign that increases African-descent giving. BPM was created by Dr. Jackie Bouvier Copeland and Pan-African Women's Philanthropy Network (PAWPNet), and launched in 2011 for commemoration of United Nations Year and Decade of People of African Descent.
"Primary aims of BPM are informing, involving, inspiring and investing in Black philanthropic leadership to strengthen African-American and African-descent giving in all its forms, for the benefit of our planet, our communities, our organizations and our lives."
10 BPM suggestions for August:
*Participate in an online philanthropy or community-focused related event
*Write an op-ed piece for a local or national publication, inspired by the theme and focused on philanthropy, community issues and African-descent people
*Organize a virtual museum tour or stream watch party of a Black film with your friends followed by a discussion of the implications of our history for Black giving today and in the future
*Join or start a giving circle in your community. Learn more about giving circles here
*Explore options for mentoring virtually
*Host a virtual civic engagement forum e.g., panel discussion, community conversation, etc. around topics/issues of local interest
*Engage in an online community service project
*Amplify nationwide #BPM2021 efforts via social media
*Share news and stories with newcomers to the concept of philanthropy and traditions of Black giving
*Donate to a cause of interest and encourage friends to do the same
*Request a proclamation from one or more of your governmental bodies, recognizing August as Black Philanthropy Month
* Engage in a community service project. If you need assistance in developing, planning or promoting a community service project, submit contact information: